words, music, voice
Mara Cantoni

musical arrangement and instrumental ensemble direction
Lee Colbert

musicians of the Orchestra
delle donne del 41° parallelo
Agnese Valle, clarinet
Marta Lanciano, clarinet
Lucia Ianniello, trumpet
Alice Noris, trombone
Laura D'Ippolito, piano
Cristina Patrizi, acoustic bass

recorded in Rome
at Teatro dell'Ascolto,
October 2011
and mixed at Houseboat Studio
by Alfonso Anagni

"pluriel féminin" composed and mixed by Mara Cantoni

masterised with the kind advise
of Luigi Ceccarelli

graphic and layout
Lucia Carenini

cover
Bice Lazzari, Racconto n.2 (1955)
with the kind permission
of the Archivio Bice Lazzari, Rome

artistic and executive production
Mara Cantoni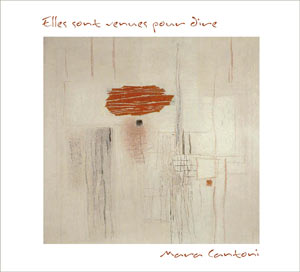 A song, a journey, a project

When I wrote this song, some years ago,
I had no intention other than to dedicate it to "women",
a human subset of which I am a member.

When I began my journey
in and around the Mediterranean,
I could not have imagined that so many voices
would claim this song as theirs,
to sing as if it were a well-known refrain.

When it comes to a confrontation, men take up arms
and turn their distracted backs on their partners,
embracing an illusion of victory.
When it comes to a confrontation, women in pain and in dismay
have chosen what seems to be defeat,
turning their backs on weapons but embracing life.

This is certainly not an absolute law,
but it is something more than just coincidental experience.
It can be seen and felt in the depths
of exchanges of words or looks.
It bridges seas and oceans, it spans the Millennium,
it is a metaphor and it is real.

Are we still here? We are.
This is not a matter of feminism,
or of good and evil lining up against one another.
It is, and always will be, free deliberation,
sketching a horizon to aim for.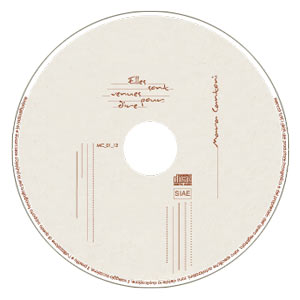 the "female plural" version
was translated, read, sung by...

in English
Lee Colbert (tr. and voice)
Allison Robertson (tr.)

in Italian
Mara Cantoni (tr. and voice)

in Spanish
Begoña Patiño Díe (tr. and voice)

in Portuguese
Luisa Aboaf (tr.)
Antónia Destino (tr. and voice)

in Serb-Croatian
Ivana Kerečki (tr. and voice)

in Albanian
Eda Agaj Zhiti (tr. and voice)

in Greek
Stavroula Cherouvim (tr.)
Paola Cofano (tr. and voice)

in Turkish
P¦nar Dönmez (tr. and voice)

in Hebrew
Nella Magen Cassouto (tr.)
Bianca Moreno (tr. and voice)

in Arab
Sara Gismondi (voice)
Najwa Tarazi (tr.)
I would like to thank the Archivio Bice Lazzari in Rome for allowing the reproduction of Racconto N° 2 on the cover of the cd. A musician before she became a painter, Bice Lazzari (1900-1981) obstinately and discreetly followed her own search for light and harmony, of expressive rigour and freedom with which this project immediately resonated.

Another woman from my past was imperiously present as this cd was seeing the light: Liliana Renzi (1928-2012), my teacher and much more, musician non-pareille, whose unforeseen end was as surprising as her life.

To these two artists and to all the women who, with their energy and unshakable confidence have shown us the way, this song is dedicated.