... peppino di capri celentano mina the first gaber partire partirò neil sedaka françoise hardy a fake Spanish long-playing record in short and here comes de andré battisti explodes Yiddish enters beside American country and western and dylan and brel let it be let the sunshine in cantacronache jannacci the sound of silence between cara moglie and gorizia the shout rises of contessa between guccini and de gregori victor jara advances theatrical gaber grows hasta siempre comandante jesus christ superstar and Russians Greeks Scots Mexicans remain only you plaisir d'amour and de morales gracias a la vida strairway to heaven forever imagine...

Hand written words, rarely a chord, pages typed with the Letter22 and stuck together, the index in the rubric at the end, strips of loose faded yellowy sellotape, bubbles of dry glue... My agendas covered with striped material. Used up. Having lived like few exercise books in the world.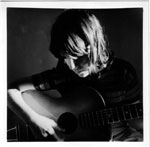 Unghie rosse
(Red nails)



...
no non delle mani che mi fa volgare
ci vuole eleganza nel particolare
son quelle dei piedi che se colorate
diventano subito più raffinate
...
Red Nails
is a "stupid song" of 1982. When I used to sing it people laughed. It seemed a bit monotonous to me however. So I invented a short stupid monologue as a preface to the monotonous stupid song.
Everyone laughed a lot.
So this is how
Red Nails
became a "stupid
performance
". I thought that all performances finally are "stupid performances".