Alexandra voice
Jorge Fernando voice
Arrigo Cappelletti piano
Custodió Castelo portuguese guitar
Flavio Minardo electrical guitar
Daniele di Bonaventura bandonéon
Davide Zaccaria cello

With this project Arrigo Cappelletti lent his music to the texts of some of the greatest Portuguese poets of the twentieth century, both classical and contemporary, with the help of some of the most important lusitano performers of new fado...

Amiata Records, 2001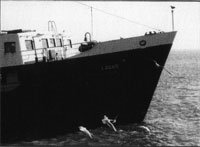 Perhaps the experience of Portugal
can be expressed only through music;
since here everything is melody, intermediate tone,
subtle yet decisive nuances...

R. Schneider, Portugal: travel diary

With my journey through Portuguese music and poetry I put forward again this same journey which Reinhold Schneider made in the Thirties across the culture, scenery and soul of this country...

Arrigo Cappelletti

... A very pleasant feeling of all this
is still there, rhythm, food , wine, climate, music, people, the azulejos everywhere...
No one looks particularly unhappy.
Nor particularly happy, in actual fact.
But you get the impression that here
the quality of life, or life simply,
is preserved.

(from my travel notebook,
26 february 2000)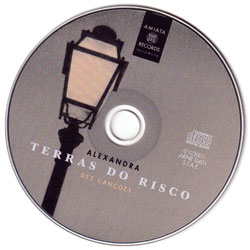 I caress my soul, I sing for it.
It has gone over the sea
while I was on the shore.
I could do nothing but look.
I sing something I don't know well
I sing far away elsewhere now
I sing all the borders nearby
I sing alone and I sing all together
I sing memories that I don't know
fury of wind frenzy hope
I sing the people who like me sing
I sing a resonance
I sing a reflection of a thousand words
to keep what is gone
to console myself for completeness
I sing the secret and the openness
I sing life somebody listens
sings in turn and makes somebody sing
I sing to myself to make myself heard
I sing to provoke
I sing and lament I rock slowness
the shade the eyelids the subdued voice
I sing I invent myself
to hold a dialogue looking at the sea
I sing and hearing myself I know I exist
I mock myself and I heal myself
I sing writing I sing playing
with gaiety and with sorrow
fragile white melancholy
I sing my other self that I miss
small boat my soul
the ocean caught you
took you away


Mara Cantoni, from the booklet of Terras do Risco

Ana Claudia Moura
voice

Jorge Fernando
voice and guitar

Arrigo Cappelletti
piano

José Manuel Neto
portuguese guitar

Fausto Beccalossi
accordion

Mara Cantoni
voice reciting

An important and personal integral presence is that of Mara Cantoni, who not only guides the audience through the various parts of the project but also develops a true and singular dramaturgical path...


(Maurizio Franco, from the concert program - Camera del Lavoro di Milano,
29 march 2003)



The guiding voice of Mara Cantoni is fundamental: right from the beginning it takes the listener by the hand, with a pleasant, calm, involving tone and accompanies him through the unpredictable landscape of thought which lives and yet wriggles out of it, in a circling round of quotations and allusions to poets, philosophers and artists. All admirably balanced between chance, free association of ideas and conceptual, dialectic architecture. Music flows so naturally from her words, from very profound lyrics said with humble and sweet innocence, as if not to spoil them before they unfold in song, from the aphorisms which recall one another in a kaleidoscopic game of mirrors that disorientates and fascinates. (...) A convincing and passionate performance, in fact, that invites you to read, reflect and listen as vital fonts of creative folly...


(Sergio Albertoni, Corriere del Ticino,
4 april 2003)