Technique and emotion...
The theater of classical opera blends the two things,
often at the highest level,
concentrating them in a physical place which itself
is very special and usually very beautiful.
Above and below the stage of the opera I have learned about the aesthetic
and dramaturgic aspects
of the theater in music, which have supported
my further experiments.
Some writings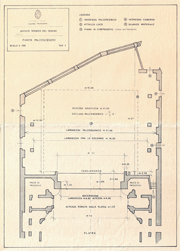 conductor Ferdinando Guarnieri

orchestra I Pomeriggi Musicali

direction by Mara Cantoni

sets and costumes by Nanà Cecchi




Manon Lescaut

Maria Cristina Billard

The Chevalier des Grieux

William Matteuzzi
Pietro Ballo

Lescaut

Franco Sioli
By some strange chance I was assigned,
in the land of melodrama, works by
some of the less common foreign composers:
Prokofiev, Berg, Gounod, Johann Strauss...

This Manon by Massenet was a real adventure
for me and Nanà, and a point of honour
in succeeding in putting it on the stage.

... the scenic part, dismissed but elegantly and intuitively...
... … the most interesting part of the evening.
(Angelo Foletto, la Repubblica, 15 december 1979)

The following year the As.Li.Co.
was completely renewed.
As.Li.Co.
the bluff of the mission
The Italian Opera and Concert Association, according to its charter, is a nonprofit association, and its activities are guided by pure love of the arts which it wishes to elevate to high ideals of morality and justice so that merit triumphs. The aim of the Association is to open doors for young students with enough natural talent, by means of experimental theater, and to enhance the talent of those artists worthy of this name through artistic shows in Italian and foreign Theatres. The Association which is apolitical, doesn't wish to superimpose or counteract other similar good associations but, quite on the contrary, it wishes to collaborate with them and all those interested, in order to increase and expand our art and contribute to the well-deserved success of our artists. Put simply, its aim is to carry out teaching and experimental activities in the theater and artistic field, not a trade but a mission.
read on